Kitesurfing in the Caribbean
Our Kitesurfing school on Union island in the Caribbean offers the best service for advanced Kitesurfers looking for the best Kitesurfing holiday or for the beginners looking to learn how to Kitesurf for the first time in the Caribbean with amazing weather conditions with shallow and clear water.
Book your Kiteboarding holiday with the JT Pro Center and find out more about How to Get to the Grenadines, the best Kitesurfing destination and spot from December to July to kitesurf the Caribbean.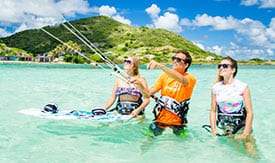 Learn Kitesurfing in the Caribbean
Our team of instructors will be happy to give you the experience of a lifetime by teaching you how to kitesurf on one of the most beautiful kitesurfing spots in the world.
Learn about our beginner packages.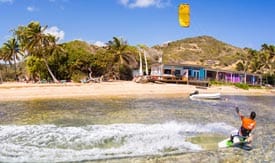 Caribbean Kitesurf Holiday
If you are looking for the perfect Kitesurfing holiday, the JT Pro Center offers the best accommodation with our partner hotel located right on the Kitesurfing spot.
Book with us to get FREE Kitebeach Access.
Kite Cruises in the Grenadines
Union Island is located in the heart of the Grenadines.
Stay on Union island in our partner Hotel and discover the neighbor islands by joining one of our Kite Safari tour.